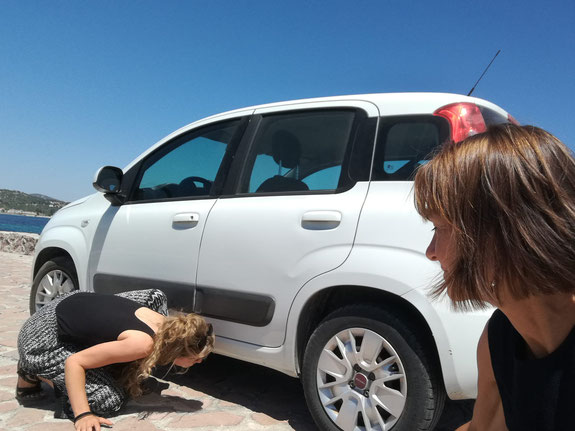 There is cat stuck somewhere underneath our rented Fiat Panda.
When we ride the car it is meowing loudly. An elderly Greek man tried to get it to come out with a broomstick and water all in vain. So we continue our ride to our meeting, but we cannot ignore the meowing. At a small car workshop, we spot a car jack and so we stop again and four car mechanics try to locate that cat – in vain. Eventually we continue our ride to Nicolas from One Happy Family with the cat still stuck somewhere under our car. He shows us around their great community project which is located between the camp and Mytilene. He also provides valuable information about the latest changes in the asylum procedure in Greece. Then we move on to Camp Moria… without our stowaway cat? There's no more meowing…
In the camp we meet with a young Afghan couple. Their first application for asylum is still pending and they worry about being turned down. They look kind of vulnerable and insecure and like anyone else that we meet, they would like to leave Moria as quickly as possible. More often than not the refugees don't fully understand the meaning of the documents they get and they don't know their legal rights and options either and to make matters worse, these seem to change frequently. As we can't find an interpreter, we use google translator, which seems to work quite well, besides creating some amusing and fun situations. We laugh a lot. We figure out that besides getting information about the legal procedures there's something else that bothers them, but what? They seem to be embarrassed, look at each other and smile. Then the young husband plucks up courage and writes: "My wife is illiterate. She would like to learn to read and write which was impossible under the Taliban. I need a notebook to teach her." "Oh, we will get you all the books we can get hold of." We say goodbye and watch them disappear in the clutter of makeshift tents and homes. A ray of hope in a tough situation.
Since we have been invited by a Syrian family, we now try to find their place in the jungle of Moria Camp. The following two hours that we spent in their 2,5m by 2m self-made home were memorable. We had lunch with them and it felt like we had been friends for ever. We admired their 10-days old baby, were fooling around with their 4-year old daughter, had a delicious meal, serious talks about politics and laughed a lot.
It's 34 degrees Celsius and we are tired and sweaty as we get back to our Panda and ride back to Mytilene, where we stop at a pharmacy to get some medicine for the baby. A completely distraught Afghan mother approaches us and asks for directions to the hospital. She's got a ten-year-old boy  and a little baby boy in a stroller who has got a fairly deep cut on his chin and is bleeding. They don't have proper band-aid at the pharmacy and the local doctor doesn't want to treat such a young boy. So, we get a ride to the emergency unit of the hospital, which looks little reassuring. We're glad to be with that mother because they don't want to accept her either. They say they can't read her documents. We patiently point out that her documents are in Greek language. Reluctantly they take the boy to the doctor who then stitches the wound. At the same time the police are walking a man in handcuffs down the corridor and a half-naked older woman on a stretcher is carried along… we are glad when we can finally leave the hospital two hours later. At the emergency pharmacy we explain to the young mother how to use the antibiotics and where to go to remove the stitches. To get her baby boy a tetanus shot she will have to come back to the hospital tomorrow. She diligently notes everything down in Farsi. In the meantime, the baby boy is sleeping peacefully in his stroller. Ahmid and his mum wave us good bye as we walk back to our car.
Somewhere along the way back to our Panda we notice a poor, little cat meowing…